Professor Patrick G. Johnston Award
The Inaugural Professor Patrick Johnston IACR Award for Excellence in Cancer Research Outreach was presented at the 55th IACR Conference in Belfast 2019, to remember the legacy of Prof. Johnston.
Six early career researchers are selected based on their lay abstract submissions to IACR. Those selected take part in a patient communication workshop prior to IACR conference and are asked to prepare a lay presentation on their work.
Each year the award is given to the best early stage investigator for excellence in cancer research communication and outreach to the public. The award is unique as the winner is selected based on the majority vote by the panel of scientists, patients and the general public during the dedicated award session at the annual conference.
Dr Cathy Richards
My name is Cathy Richards, I graduated from UCD with an undergraduate degree in Genetics and went on to complete my PhD in 2019 with the Department of Surgery, RCSI in breast and gastro-oesophageal cancers. I now work as an early career post-doctoral researcher in the Department of Molecular Medicine, RCSI looking at immunotherapy resistant lung cancers.
Ms Claire Hughes
Claire graduated with a 1st class honours degree in Cell & Molecular Biology from UCD in 2021. In September 2021, Claire was awarded a PhD scholarship by the Irish Research Council and CB1 Botanicals under the supervision of Associate Professor Antoinette Perry and Dr Susanne Schilling in UCD. Claire's PhD project investigates the application of Cannabis bioactive compounds for the treatment of high grade serous ovarian cancer.  
Ms Laura Kane
Laura began her undergraduate degree in General Science in Trinity College Dublin in 2014 and graduated with a First-Class Honours Degree having specialised in Zoology in 2018. Laura is currently undertaking a Ph.D in the Dept. of Surgery in TCD funded by the Meath Foundation Charity in Tallaght University Hospital, under the supervision of Dr. Stephen Maher and Prof. Barbara Ryan. Laura's research is in pancreatic cancer, where she is working to identify new biological markers that can be used to identify patients who have a high-risk of pancreatic cancer at an earlier stage.
Ms Jane Howard
My name is Jane and I am a third year PhD Student from Dublin. In 2019 I received my BSc in Biomedical, Health and Life Sciences from UCD. Following completion of my undergraduate degree, I began my PhD in UCD Conway Institute. I work with Prof. Amanda McCann, Dr. Pamela Kelly and the comparative oncology research group to investigate the role that extracellular vesicles are playing in both human and feline triple negative breast cancer.
Ms Rebecca Sheridan
I received a BSc (Hons) Genetics from University College Dublin. I am currently carrying out my PhD in the Conway Institute in UCD in the Mc Gee group. My research focuses on the characterising the contents and function of extracellular vesicles, with a special interest in Multiple Myeloma.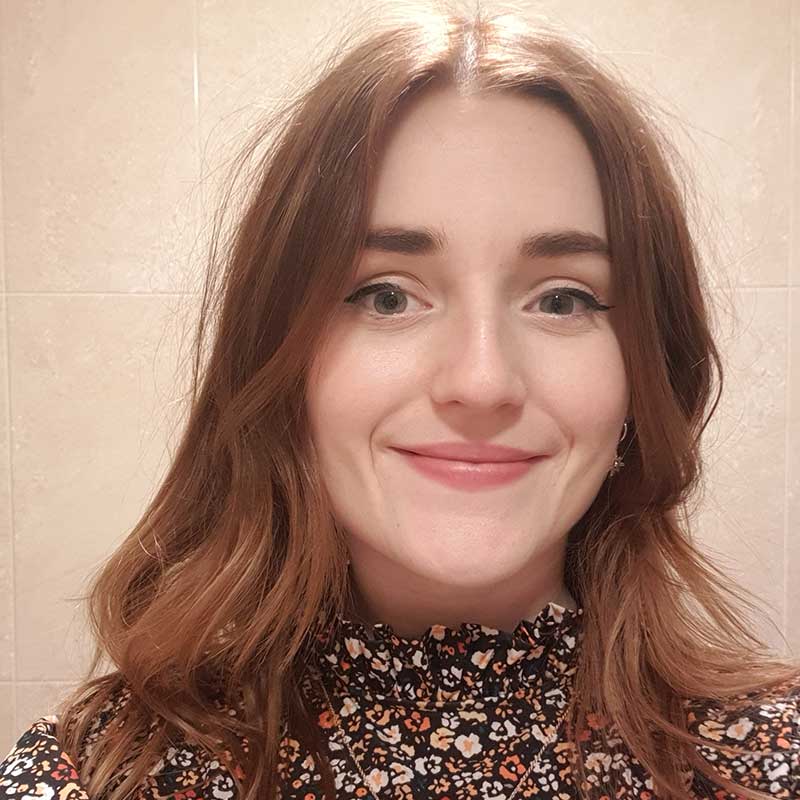 Ms Laura Bogue-Edgerton
Laura Bogue Edgerton has a bachelor's degree in Medicinal and Pharmaceutical Chemistry and another in Forensic and Environmental Toxicology from Technological University Dublin. Currently Laura is in her final year of her PhD studies with Professor O'Leary and Molecular Pathology Research Group, Trinity College Dublin, where she is working in drug design and cancer metabolism. Laura is currently working in collaboration with Professor Doug Brooks of University of South Australia and Professor Stavros Selemidis of Royal Melbourne Institute of Technology.
Who was Professor Johnston?
Professor Patrick G. Johnston
Patrick G. Johnston 
FRCP FRCPI FMedSci
14 September 1958 – 4 June 2017

Professor Johnston was an Irish physician and world-leading expert in cancer research.
He was a Professor of Oncology at Queen's University Belfast (QUB), where he served as Vice-Chancellor and President from March 1, 2014. Professor Johnston's research focus was on the understanding of mechanisms of drug resistance to therapeutic agents.
His philosophy placed the cancer patient at the center of the cancer care and research agenda.
Professor Johnston also had a passion for engaging and invigorating young early-stage cancer researchers and he mentored many great clinicians and scientists.
Shannon Nelson
2020 Winner of Prof. Patrick G. Johnston Award
Presented by Dr. Iseult Wilson and Prof. Amanda McCann
2020 Six chosen early career researchers
Ms. Eve O'Reilly (UCD)Ms. Anu Prakash (NUI Galway). Dr. Karima Khalifa (UCD). Dr. Neil Conlon (DCU). Ms. Naomi Algeo (St James' Hospital/TCD). Ms. Shannon Nelson (DCU).
Romina Silva
2019 Winner of Prof. Patrick G. Johnston Award
Presented by Dr. Iseult Wilson, wife of the late Prof. Patrick G. Johnston
IACR Charity Funding
The IACR is a charity which needs your help to support early-stage oncology scientific researchers
What's On? IACR 2023 Agenda
Download the initial draft of the IACR BioMedical agenda for our 59th Annual Conference.

Registration/ Membership for IACR 2023
Registration for the 59th Annual Conference in the Radisson Blu hotel, Athlone is Now Open.
EACR Membership is Included
The IACR is an affiliated national society and its members benefit from full membership of the EACR.
Late Breaking Abstracts in Now OPEN!
Biomedical Session Abstracts
Deadline: Midnight, Friday, 20th January 2023

Please note:
- Patrick Johnston Lay submission category is now closed
- Late Breaking Abstracts submitted to the Biomedical Sessions will be considered for Display Poster Presentation. 
Social Nursing and Allied Health (SNAH) Abstracts
Deadline: Midnight, Monday, 9th January 2023
SNAH abstract submissions will remain open until Monday 9th January.
Contact Us
Irish Association for Cancer Research
9A Coolkill, Sandyford, Dublin 18
Irish Association for Cancer Research (IACR) is a registered charity on the Register of Charitable Organisations.
Registered Charity Number (RCN): 20030117